Are you finding it difficult to deal with stress, body pain, muscle cramps, etc?. If you are, then you have come to the right indian ayurveda center singapore as we have some amazing stress-relieving factors for you. One of the biggest problems most of us face is stress issues. It can arise from anything such as financial difficulties, health issues or anything unpleasant. Admit it, we have all become stressed at one point or another. When we are affected by stress, it results in the rise of several medical conditions in our body that can worsen if not given proper treatment.
According to Ayurveda, we become sick or get affected with a serious condition whenever there is a dosha imbalance in our body. If you are looking to get a complete detoxification session from stress and anxiety issues, then booking the right treatment at Global Ayurvedic Centre, the best indian ayurveda center singapore is the best option. Luckily for you, we have included some of the treatments that you must try if you want to balance the doshas.
How to choose the right Therapys?
Like other forms of medicine, in Ayurveda, determining the right treatment involves identifying the symptoms and vital information about the patient's health, body type (doshas) and more. Many reputed ayurvedic clinics in Singapore also plays an important role in the patient's health. As body type is different for each person, at Global Ayurvedic Centre, the medications are prepared by our ayurvedic practitioners using the right ingredients sourced from nature. However, if you are not sure about your body type or wondering which is the right treatment for your condition, you can book a consultation with our doctors.
The Natural Therapys
Once you make an appointment with us and choose the desired treatment you want to have, our qualified ayurvedic practitioners will take care of the rest so that you don't have to worry about anything. However, if you are suffering from any existing medical conditions or have any unhealed injuries, it is wise to not avail of the treatment. To prevent such scenarios, we recommend having a consultation with our doctors. Alright, let's get on with the treatments.
Abhyangam Therapy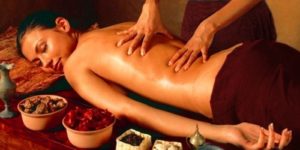 Abhyanga is one of the most preferred ayurvedic treatments. The procedure involves rhythmically massaging the body from the scalp to toes using warm herbal medicated oils. The oil used may depend on the person's dosha type. The goal of abhyanga is to loosen the toxin buildup in the tissues and thereby getting rid of them naturally. The oil used for rubbing gets penetrated deep into the muscles, tissues thereby providing nourishment from the inside out. Apart from stress relief, other benefits of getting an abhyanga ayurvedic therapy include improving skin tone, promote relaxation, and calm the mind.
Shirodhara Therapy
Shirodhara is one of the best ayurvedic treatments for stress, anxiety problems. The procedure involves pouring warm medicated oil over the forehead in a continuous stream. The oil is usually dispensed from a copper bowl or vessel that is suspended above the patient's head. The rhythmic movement of the oil creates gentle pressure and vibration and gets absorbed into the skin. Precautions are taken to ensure the oil does not flow outside the intended area.
Kizhi
Another interesting treatment is a kizhi. Although this is not a stress relief only treatment, it is useful for treating body pain, muscle cramps, joint pains, etc. This is a full-body therapy that involves using a kizhi dipped in warm medicated oil. The treatment can be done with or without oil and relieves deep-rooted tension in muscles, increases blood circulation, loosen build-up toxins and strengthens muscle tissue.
Pizhichil
Like Kizhi, pizhichil is a traditional full-body Ayurvedic massage that involves pouring medicated oil all over your head and body in a constant stream. The type of oil used for the procedure depends on the patient's body type and medical conditions. The treatment combines oil and heat therapy that helps improve blood circulation, eliminates toxins and more. The medicated oil is poured into your body by squeezing it out from a cloth. An abhyanga ayurvedic therapy is given following the treatment.
Why prefer Global Ayurvedic Centre?
The reasons to choose our clinic are plenty. Apart from being the best indian ayurveda center singapore, we are known for our reputation and excellent services. Having years of experience in providing natural relief to various illnesses, choosing our treatments offers natural relief and improved health to customers. We believe that the key to maintaining good health is to adopt a healthy lifestyle coupled with our treatments periodically. We provide a wide range of affordable ayurvedic treatments for treating ailments thereby keeping the doshas balanced. Book an appointment at our indian ayurveda center singapore and experience Ayurveda in its purest form.