ABHYANGA AYURVEDIC MASSAGE WITH POULTICE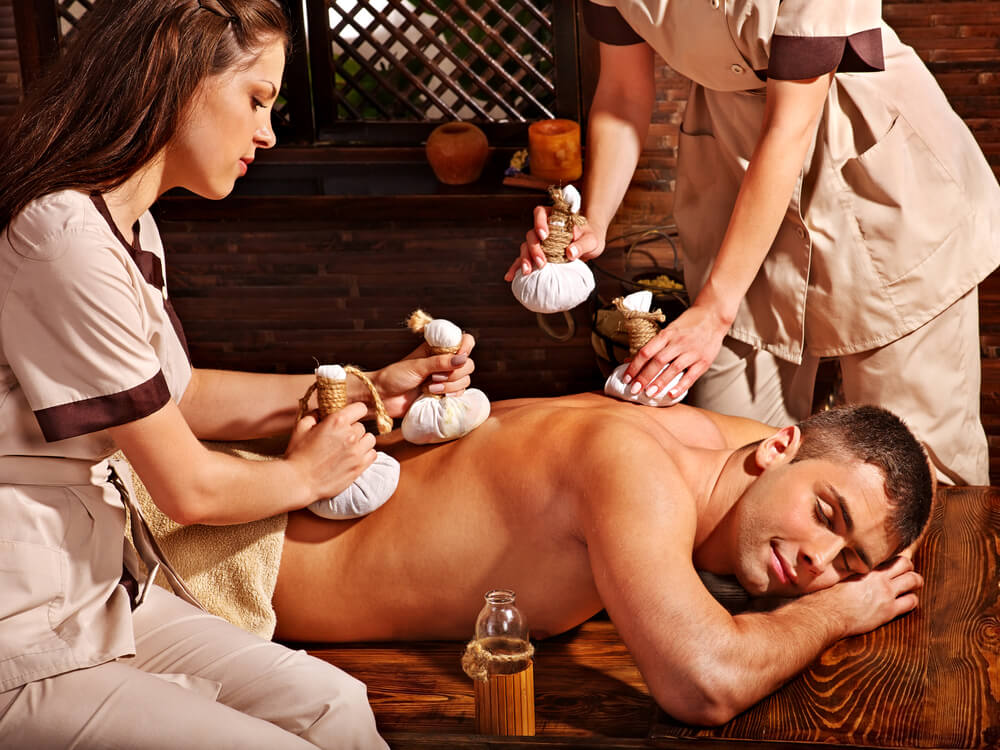 RHEUMAVEDIC ABHYANGA, Massaging the body with herbal oil suitable for the body types and ailments followed by massage with hot herbal poultice prepared with healing herbs. Make your body and mind relaxed with an authentic Abhyanga Ayurvedic massage. Getting a natural massage session helps remove toxins from your body and eliminates body and muscular pain, joint stiffness, increases blood circulation, heals inflammation and more. Global Ayurvedic Centre is considered the best Ayurvedic clinic in Singapore since 2004 for its excellent health care services and a team of professionally trained staff. Apart from that, the Abhyanga massage cost is affordable which makes it worth considering for the benefits. With a simple booking, the customer gets to experience an authentic Ayurvedic session and thereby improve their overall health.
Benefiting From Rheumavedic Abhyanga Ayurvedic Massage
Getting an abhyanga ayurvedic massage from Global Ayurvedic Centre has its benefits for balancing your body's doshas and providing relaxation. Getting affected with lifestyle diseases and looking for natural treatments to combat it is what brings people to Ayurveda. Our renowned therapy sessions and medication services have provided several customers with better health and increased resistance to diseases. Our abhyanga massage sessions work best when it is done with other ayurvedic treatments such as Shirodhara, Udvarthanam and other therapy sessions. When it comes to our abhyanga massage cost, they are not overpriced and are reasonable. Global Ayurvedic Centre is the best place to improve your immunity and quality of life.
Ayurvedic treatments if done correctly not only helps provide relief from diseases but it also acts as a preventive medicine against getting affected with diseases in the future. Global Ayurvedic Centre is one such clinic that where our team of ayurvedic doctors and practitioners provide the best quality and effective treatments and one such is our abhyanga ayurvedic massage. The patient is given detailed explanation about the treatment and its benefits before the procedure. This helps build a trust between the patient and doctor and helps with the procedure. Our abhyanga massage cost is reasonable for all customers so that everyone can benefit from the treatment.
SIGNIFICANCE OF ABHYANGA AYURVEDIC THERAPY
Rheumavedic abhyanga ayurvedic therapy performed by our experts can provide a complete relaxation for your mind and body. With the proper selection and application of herbal oils, dosha imbalance of your body will be addressed. An abhyanga massage combined with other therapies is focused on improving your overall wellness. Along with refreshment, immunity of your body will be enhanced. Duration of our treatment is 55 minutes. With back to back massage sessions, specialists therapists of Global Ayurvedic Centre will increase your blood circulation and make you more energetic.
ABHYANGA AYURVEDIC TREATMENT NEAR YOU
It's time to give a break to all your stiffness and pain. Our rheumavedic abhyanga ayurvedic treatment available in Singapore is capable of providing you a healthy life. Service delivered by experts in the Global ayurvedic centre will help to relieve the joint and muscular pain. Proper counseling sessions will be given in order to prepare the patient mentally for the treatment. With proper attention and systematic approach, our team is confident in making your mind and body relaxed. Get in touch with us today itself.
Contact Us
+65 6296 4898
+65 9826 3675
enquiry@gacayurveda.sg